From my second day at Mash-up Camp 6
Yahoo FireEagle
First session was from Yahoo's FireEagle, really interesting platform for Location Based data, a good API' to get LBS data for building services. It's most accurate for US, but works world-wide (invitation only at the moment).
Serena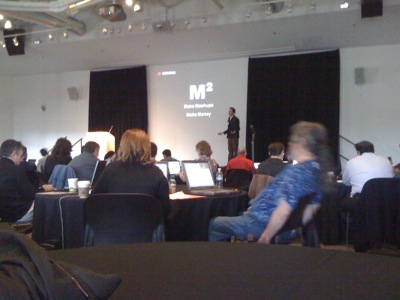 Serena shows a cool viral marketing video, about organizations complexity in getting new business requirements implemented in their IT infrastructure.
Mash-up really is what the highly touted and expensive integration platforms sold by IBM, Tibco, Sun, WRQ and others for years, and especially what the whole idea about Composite Applications. Last few years there been a lot of talk about SOA, and ESB, but this is all heading in the direction of Mash-up, where you combine structured data from public and private sources. Mash-up's are not just Google Maps any more…
I did some work in the early 2000's in the data integration and Composite Application space, and did a technology licensing deal for my software company's (VIOMA) of it's data integration platform to an US EAI/Composite application company (GTSoftware) and where had partnerships with some of the other ones. And the business cases of allowing non-coding (or very little of it) to snapping together some new applications or view into data that you can interact with or just simplify some complex processes and user interfaces.
So I think we will see that simple to advanced Mash-up's will replace, and deliver the promise of the complex SOA and Composite Applications integration solutions that we have seen in the past. And we will probably see a lot of expensive Business Mash-up server platforms from the big vendors, but the low-end, open and accessible free mash-able services from Google, Yahoo, Xignite and other Internet companies and startups will drive this trend, and make sure that there a lot of people that know how-to and are building Mash-up services in-side and out-side of the Enterprise.
https://nicolaiwadstrom.com/wp-content/uploads/sites/8/2010/09/2010-nicolaiwadstromx180x167.jpg
0
0
Nicolai Wadstrom
https://nicolaiwadstrom.com/wp-content/uploads/sites/8/2010/09/2010-nicolaiwadstromx180x167.jpg
Nicolai Wadstrom
2008-03-18 21:16:46
2008-03-18 21:16:46
Mash-up Camp 6 - Day 2, "Mash-up killed the Integration Star"